It has been so looooonggg since the crazy "bloggers" gang get together. Ok. At least on my part, I haven't been to a gathering or a food tasting or an event for quite a long time since.. since... I know theHub cos he didn't let me go few years ago. I normally tell people that I am a retiring blogger. I know nothing much about anything around me, anymore. Even my blog wordpress also got jinx. It was like, I couldn't do much when I wanted to. I tried many times to recover my blog, to make it prettier, to make it more lively. I tried to even purchase template. But in the end, I jinx up everything on my blog and I just let it die I got discouraged.
I even thought of just closing down my blog. There are lots of memories there. I didn't start blogging with this domain. I started with blogspot. I thought of recreate another blog, but then again, I felt so sad if I just let rosewong.com die. Dilemma. So, it took me quite sometimes to put my domain to blogger, but the sad thing is I failed to recover all my previous blogposts. I was sad, very sad that I tried and tried and tried.. and finally gave up. I started from scratch again. Domain name to be hosted at blogger. I don't blog as often as I used to, so there is really no need for me to pay for hosting, when I can get free hosting from blogger. Wakakaka. #nuffsaid
First of all, I want to thank Jacq for extending the invitation for this "fine dining at Courthouse". It was initally on Wednesday, but I couldn't make it. So, I was told by Jacq they changed it to Thursday. So.. people changed liao you still don't want to give face meh? I did tell Jacq I am a retiring blogger already. I almost do not have my own time, hence no blog post lo. If I go, people won't recognise me also ba.. hahahaha.. anyways... since I haven't met the girls for such a long time, I asked theHub if he can take care of the baby so that I can go gather with the girls. He agreed and the rest of this theHub agreed to take care and then....story I shall kept for next time.


Ok.. straight into the topic again. This time real real the same topic but going to tell you what happened.. I reached Plaza Merdeka at 6pm. I took out my phone, read messages from the girls and discovered that Jacq mentioned, cocktail reception at 6.30pm !!! Did she just say COCKTAIL RECEPTION?! if only 3 of us, there won't be a cocktail reception ma right?? Why is there a cocktail reception?? Who got married?? WTF !!! Nervous max when I discovered I underdress for a cocktail reception !!! For Jacq, as usual she will make up and wear till very pretty.. and Yien as usual, wear what also pretty one... and I was on my work wear, jeans and blouse with white canvas shoes. I thought it was only the 3 of us and the Courthouse people so I did not prepare to go in fine dining attire la. Not even heels ok.
And then Yien told me Eve will be going.. and I went like.. Whaaattt??!! Sounds like a big event. Told them I need to go makeover. I mean like at least with a dress and a pair of heels.. and at that time it was already 6.15pm T_T .. I have no cash with me. I only have credit card so that also means I only can shop at places like Parkson. O.o
6.54pm Yien whatsapp said faster come. She had 3 glasses of wine already. I thought she quits drinking many years ago. Hahahaha !!!
and yesssss.. I was super late. 7.02pm I managed to buy a dress and a pair of heels and run to the event place,
Vine & Single
and got lost until the girls come out to say helloooo to me.. Hahaha.. Spent more than RM350 just to attend this event. Siao or not?!
I was welcomed by friendly team and seen some familiar faces !! Like OMG !!! Super excited. Glad that I was not underdress lo... definitely worth the money spent dressing up just to meet this bunch of people. We were then toured around the Chinahouse, with them introducing the famous many many cakes Kopi C Cafe, then to Art Space and Canteen.
Unique collections. If you want to get something not so usual and is special, come and have a look of what they have. You might find something that you like for yourself and even for your loved ones.
The highlight of the evening of our Get-Together is to dine at BTB (Bon Ton Bistro).
We were first served with Crispy Mixed Flatbread with Homemade Harissa & Basil Pesto to share with drinks.
Small world when the person sitting opposite me is someone whom I knew back in highschool. Cannot reveal the years. Hahaha..
Someone hiding behind the wine glass. Bahahaha.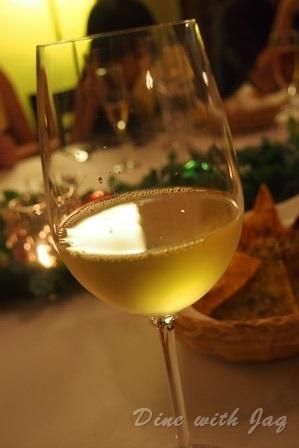 Entree:
Tomato, Lime & Coconut Soup with Cashew Nut & Coconut Sambal
When you have no time to make up and your phone is your best make up artist by filtering you by default. Hahaha. Yours truly with her yummilicious soup. This is really good. Thanks Ronald for the recommendation.
With my long lost and found ex-fiancee. Hehehe.. only those who knew us many years ago knew bout this fiance thingy. Hahaha.. No, we were not les, we are still not. We were so good we need to get ourselves attached but later we broke up. Hahahaha.. Good friends still keeping in touch once in a while. Thanks to LINE and Whatsapp.
and my bunch of siao chabos - Yien, Jacq, Eve, Dys and myself. Hahaha..
Long time no meet must take lots of selfies, wefies, fiefies at every corner of BTB. Hahaha..
Main Courses were soon served while we were having fun ~
Seared Fillet of Beef with Mashed Potatoes, Butter Spinach, Mustard Relish & Balsamic Sauce
Best served Medium Rare.. recommended for those who appreciate beef, cooked this way.
Ayam Percik, Chicken Langkawi Style with Green Mango & Cashew Nut Salad, Pineapple Sambal & Kerabu Rice
Sharing Local Plattter for 2 - Ayam Percik, Prawn & Pineapple Curry, Balinese Seafood Satay, Green Mango & Cashew Nut Salad, Pineapple Salad, Gingerud Eggplant Sambal & Yellow Rice
and this is mineeeee.. teeheeheehee...
Rack of Lamb with Roasted Cumin Crust, Baked Layered Turmeric Potatoes, Gingerbud Eggplant Sambal, Roast Pumpkin with Mint Sauce & Chilli Jam.
Can't get enough of them... so much fun..
Where's Jacq *again* ??!! Hahahaha !!!
There is always room for desserts especially for ladies. Don't ask me why. I think we are born that way I guess. Anyways... we were served these yummeh desserts.
Salted Caramel Cheese Cake served with Vanilla Ice Cream, Pistachio & Honey Sauce on Fresh Mangoes.
Steamed Apple, Macadamia & Butterscotch Pudding with Gula Melaka Ice Cream & Apple, Ginger Compote
Layered Ice Cream Cake - Coconut, Gula Melaka & Vanilla Ice Cream served with Pistachio Praline & Chocolate Sauce.
Thank you ChinaHouse Kuching crew. We love you all to bits.
ChinaHouse Kuching is also a great place for functions like Weddings, Company Activities such as meetings and lunch/dinner or
Scandals
Get-Together time like what we have. I know you have questions !! Check out their Facebook page
<<ChinaHouseK>>
or you can call them directly at
082-417601.
Once again, thank you ChinaHouse Kuching for such great hospitality. We will be back for more fun.